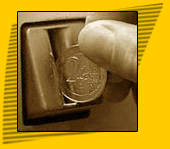 Detailed description

Equipment

View demo
The ticket selling machine
Kiosks are neatly designed, user friendly and easy operatable. With three clicks on the touch-screen monitor customers choose movie, hour of projection and the seat(s) they want. After insertion of money (notes and/or coins) or payment with a credit card or mobile phone tickets are printed and if necessary, the change is returned. All this can be seen from the demo application. The application can be easily adopted for internet sale of the tickets.

The application runs on computers assembled especially for this purpose. With additional interrupt ports microprocessor listens for any change in the system. It registers every coin and note that has been inserted, every coin and note that has been returned and every ticket that has been printed. Besides those changes it also controls the remaining funds. That is remaining tickets in the printer, coinage and notes of each value and how much power there is in the UPS.

With kiosks You won't just disburden box offices; You will also gain lots of space in the cinema.